The same way alternative text can convey the meaning of an image, the alternative text in a table provides users of screen readers the same summary information. Therefore, it is important to add alternative text to tables as well to make sure that the PDF is accessible. This is useful for people with vision or cognitive impairments who may not be able to see or understand the object.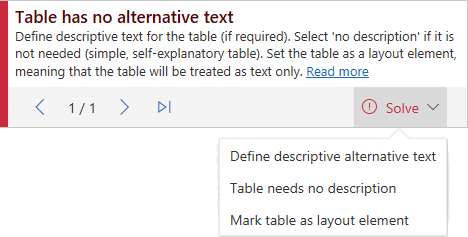 Three solutions are offered by Accessibility Assistant:
Define descriptive alternative text for table - Screen reader will read table including the summary as alternative text.
Table needs no summary - Screen reader will read the table, but without the summary in alternative text.
Mark as layout element - Screen reader will read table from left to right as though it is plain text.
When writing alternative text, strive to be informative, not poetic, and remember that brief is better. Use complete sentences with proper punctuation and check your spelling. Do not include any information that is already present in the caption.