This feature is a great tool for creating new tables and adjusting existing tables to be on-brand with the correct fonts and colors. This can be used to 1) create and insert a new on-brand table and 2) format an existing table, including tables that have not been created with Corporate Tables, e.g. Offices native table feature.
Corporate Tables is supported in both Word, PowerPoint, and Excel.
Corporate Tables in ribbon
The functionality can either be configured as two buttons - one for creating a table and one for formatting an existing table - or as a single button that can do both. This depends on your design and needs.
For instance, if you have two standard table design (with and without banding), three color variants and two table sizes, it makes sense to have a Create Table button that enables the user to create one of the standard tables and a Format Table button containing the particular color variants and table sizes.
If the user is supposed to both create and format the same table design(s), we gather these into one button called Create/Format Table.
This is how Corporate Tables looks in ribbon as default:

The highlight options are elaborated in this article. The three remaining features, Delete Table, Merge Cells and Split Cells, are MS Offices' built-in functionality.
Create new table
Select the table design from the drop down menu to create a new table. When creating a new table, the user will be prompted to select the number of columns and rows that should be in the inserted table. This works as the built-in table functionality where the user should move the cursor over the grid.
The created table is inserted with selected design, ensuring to be on-brand with the correct colors, fonts, etc.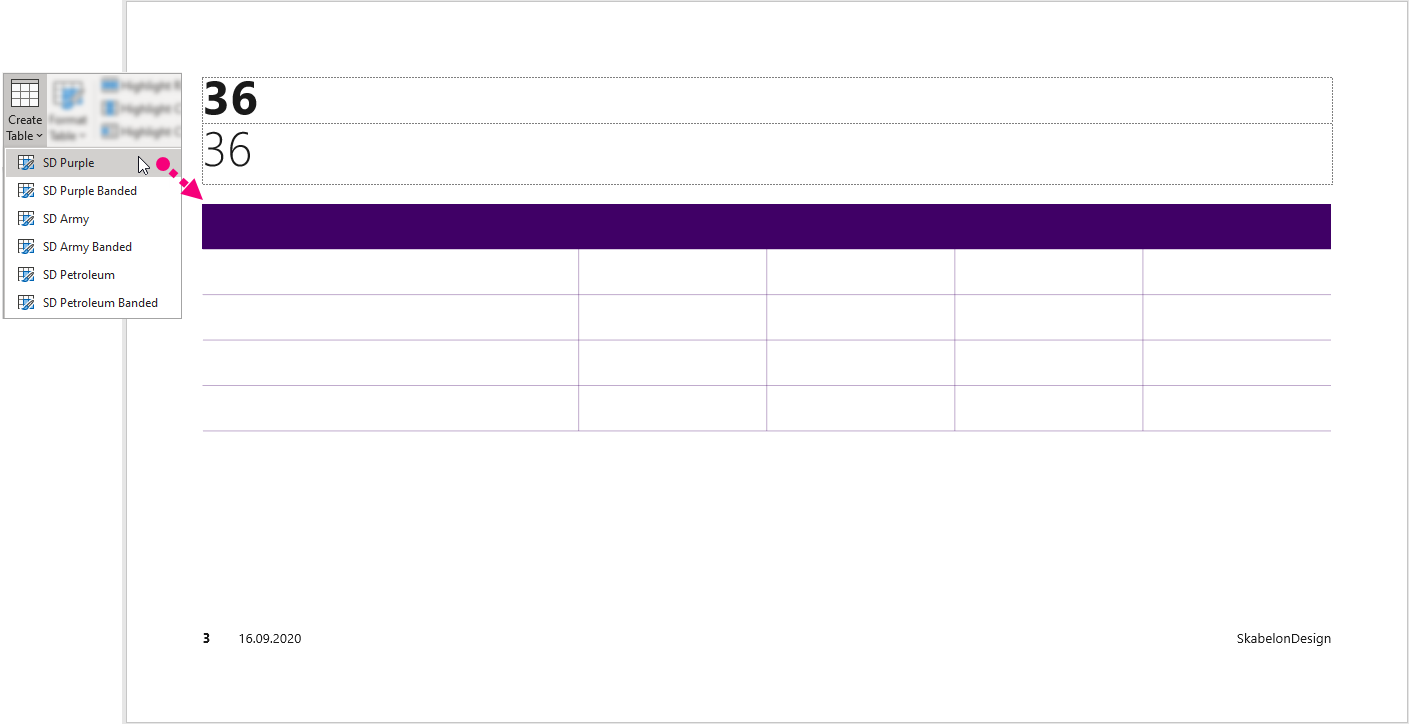 Format existing table
Select the table that should be formatted and then select which table design that should be applied to the particular table.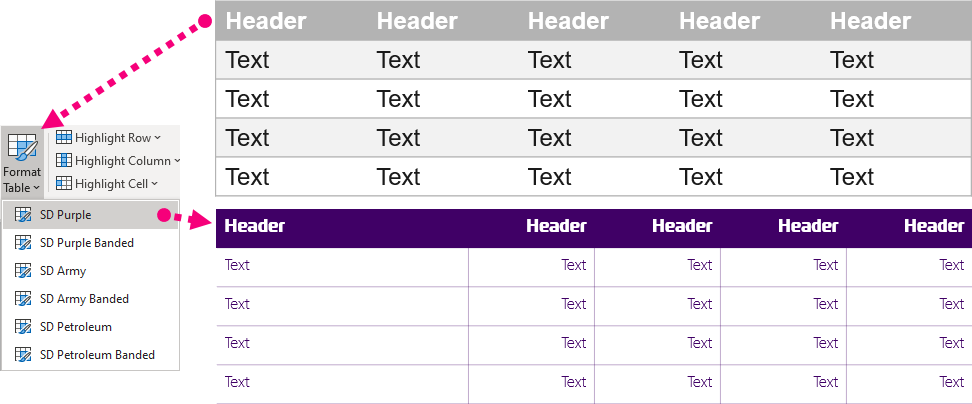 Thus, the format table feature is used to apply on-brand table design to all types of tables, including tables created with Offices' built-in functionality as well as tables that have been copied/pasted from other documents or presentations. Nonetheless, this feature can also be used to reset the selected table, meaning that if the user have highlighted rows, columns or cells and wants to remove the formatting, this feature will reset to selected table design.
Requirements
For technical requirements read more about the Office Extensions platform.
Compatible: Office 2013/2016/365 (32/64bit).
Contact us for further help via the form at omnidocs.com/support.