Layout or slide
The PowerPoint template has different built-in layouts you can choose from when building your presentation. Find the layout options under New Slide in the drop-down menu (2).
Layouts contain formatting, positioning, and placeholder boxes for the content that appears on a slide. They also contain the colors, fonts, effects, and the background of a slide.
Slide overview is the one you see to the left (1) and are the slides you populate with content to make your specific presentation.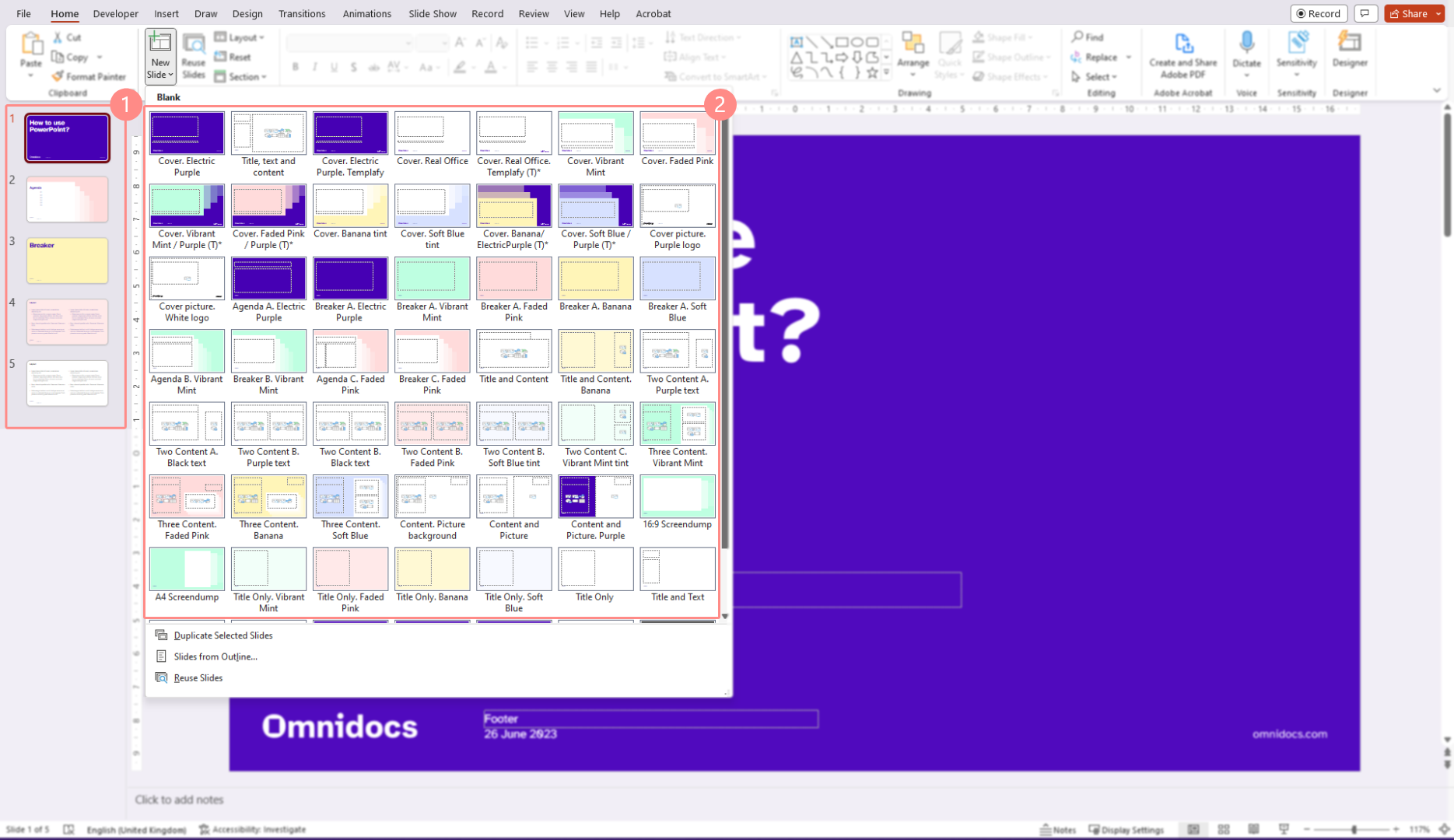 Color Theme
The color scheme of your organization is built into your PowerPoint template. You can change the text, line, and background color.

The first row (1) is the Color Theme in the template.
Accent Color 1-6 are default colors for Chart, Table, and SmartArt. For this reason, it is crucial to define these colors as corporate but also as accessibility-oriented colors.
Tables, charts, and SmartArt use text color from the Background 1 and Text 1 color position. The order of the accent colors 1-6 generates the rest of the chart color.
Color Background 2 and Text 2 can work as extra colors. Additionally, it is possible to preset two colors for Hyperlinks.
Custom Colors (3) can hold up to 50 extra colors specific to your brand, in the order you want and with the naming you prefer.
Gradients (2) and Standard Colors (4) are generated by PowerPoint and not your brand colors. These can unfortunately not be hidden.
Why is this our best practice?

Tables, charts, and SmartArt use the text color "Text 1".

Tables, charts, and SmartArt use the six accent colors. Especially Charts, as they use them in order 1-6. Therefore, we advise that those colors have noticeable different contrasts to be accessible and to allow for grayscale printing.

The main elements use eight colors out of the ten defined and are visible in Theme colors. Additionally, a preset of two hyperlink colors is possible. These two colors are not accessible in the color themes view.
Font Theme
When building a font theme, the Headings and Body font is defined.
If you copy text from another presentation, you can apply the Theme Font to that text.
Go to the

Home

tab in the Ribbon, find

Font

(1)

Click on the font type and choose if it is a Heading or a Body text

(2)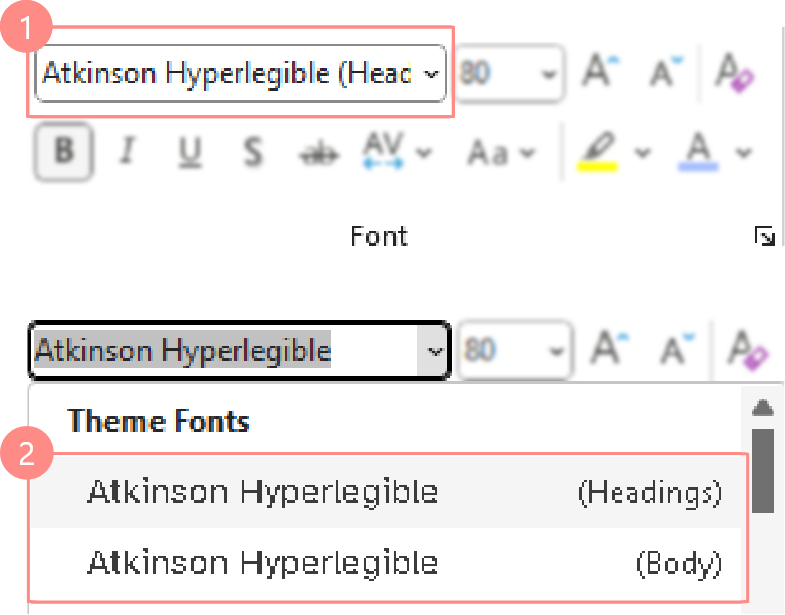 It is also possible to use a brand font and embed this into your template, though testing will be required to ensure the custom font functions and displays as intended.
The font must have TrueType outlines. The easiest explanation is that the font should be a .ttf file. If the font does not have TrueType outlines, you must contact the font developer/agency and ask for this.
Also check if the font has a tick in 'install mode' or 'editable', as these are prerequisites to be embedded at all. This setting typically requires ownership of the font, as it can then be used freely in all the templates. The font developer also takes care of this setting.

Why is this our best practice?
Tables, charts, and SmartArt will automatically use (Body) font.
Content vs Picture placeholder
A picture inserted in a Content placeholder will not crop to the size of the placeholder.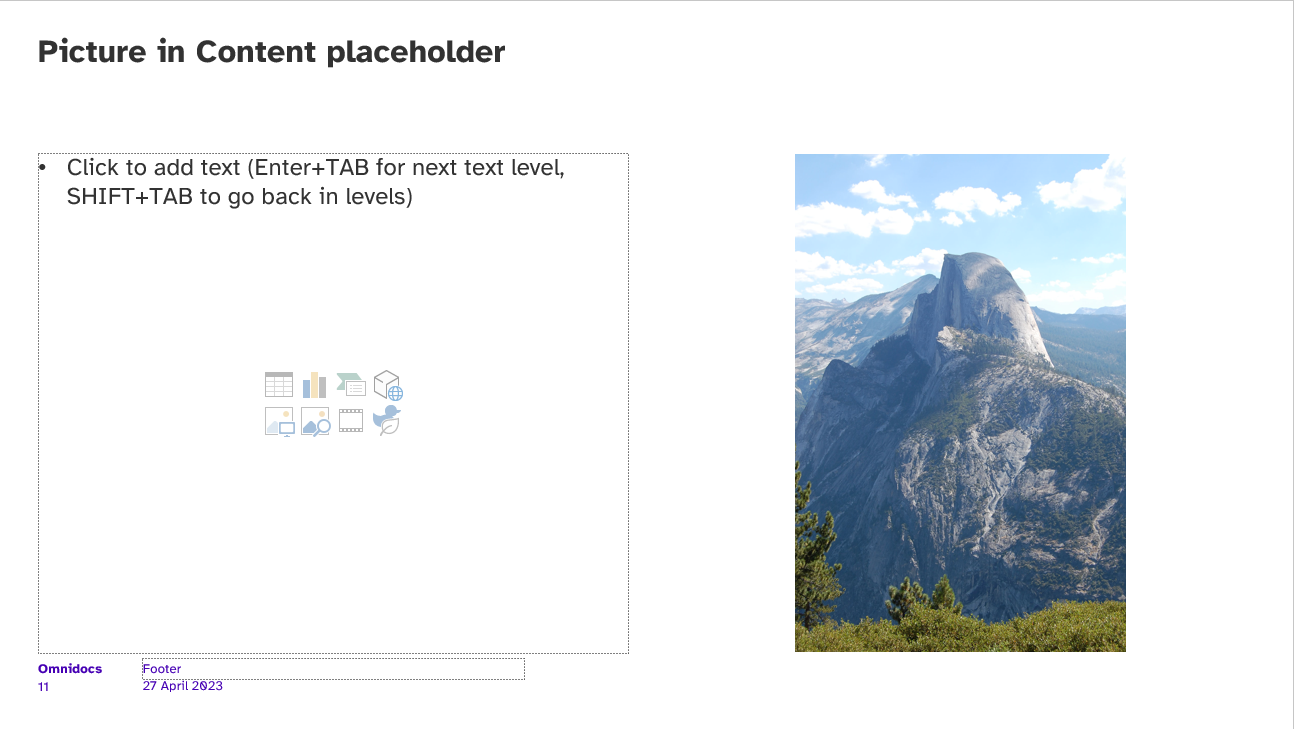 Note: A content placeholder can be used for an icon, that does not have to be cropped

A picture inserted in a Picture placeholder will crop to the size of the placeholder.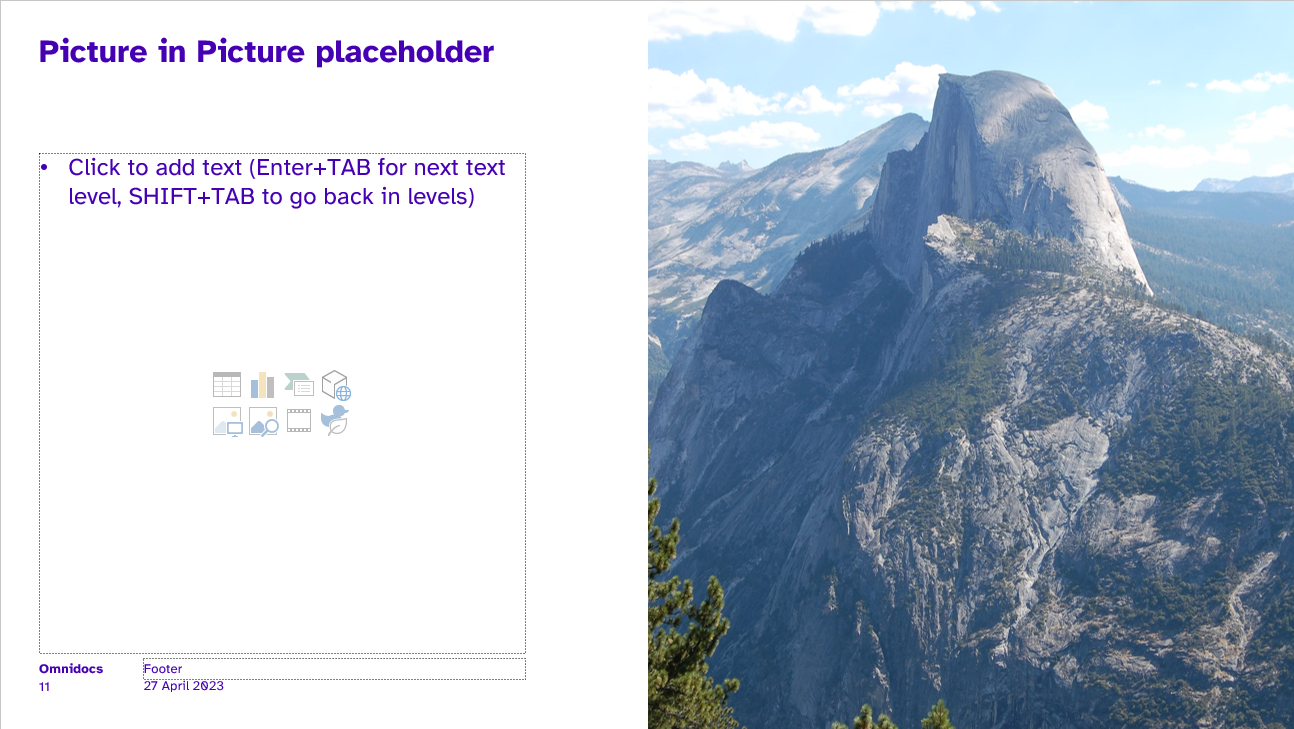 Why is this our best practice?

Content placeholders have several functions, such as insertion of logo, text, table, chart, and SmartArt.

Picture placeholders are design stable as they maintain position and size.
Note: If you have Omnidocs Productivity tools or Templafy, you can use both placeholders to insert pictures
Default Text box, Shape, and Line
The default text box, shape, and line are defined using a color from Theme Colors and the font from the Theme font, normally the body text. Default shape is also defined with outline in same color as the fill.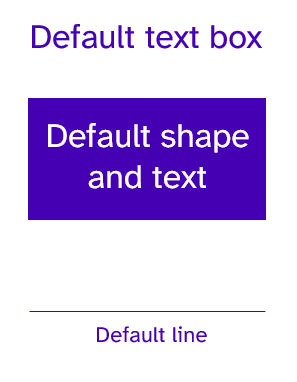 You can find the Shapes (3) and Text Box under the Insert tab (1) in the Ribbon and click Shapes (2).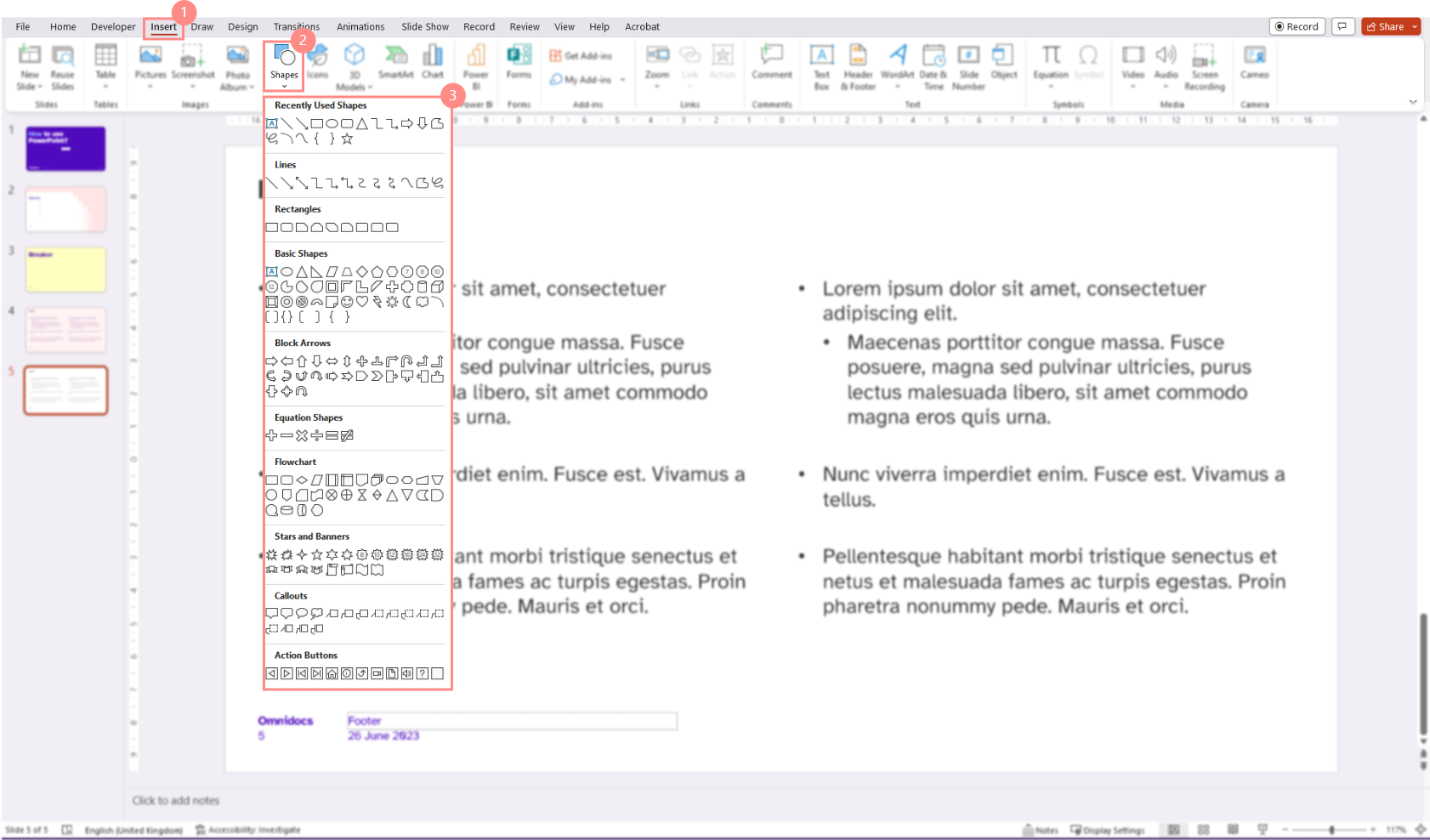 Why is this our best practice?

If no line is preset, the following shapes will not have a shape outline:

Curve


Freeform: Shape


Freeform: Scribble



All Callouts with line

Spelling language
We create the template with the appropriate Spelling language.

The spelling language in PowerPoint refers to the specific language used for spell checking and grammar checking within the presentation. It helps ensure that the text in your slides is checked for spelling errors and grammatical mistakes according to the rules of the chosen language.
By selecting the appropriate spelling language, PowerPoint can apply language-specific rules for proofing. It ensures that the presentation adheres to the spelling conventions, hyphenation, and other language-specific aspects, making it more accurate and professional.
However, changing it for entire presentations is not always as easy, so we have a software in our OfficeExtension toolset which you might find useful if you are building international content.
PowerPoint

language b

u

tto

n
Change the proofing language of your entire presentation with the language button.

In the ribbon, click Review (1) and Language (2). Click Set Proofing Language (3). Choose the language (4) and click Default, Yes (5) and OK.
Additional configuration
Format
The format is set to Widescreen 16:9, as PowerPoint uses this format as standard and it is also most compatible with external distributions.
We most commonly implement templates in Widescreen format with H19.05 x W33.867 cm.
If printing presentations is an important requirement, the needed format can change and the size and format should be discussed further.
Margins in placeholders
To ensure the best alignment between elements in slides, our templates have no margins in placeholders unless the design strictly requires margins.
Handout and Notes Master
To ensure correct aligning on branded fonts and colors in all PowerPoint masters during template implementation we also configure Font and Color theme in Handout and Notes masters.
Print grayscale
After all layouts are implemented, we do quality checks on grayscale printing and adjust our layouts for readable printing results.
Compatibility
We strive to ensure best compatibility with your recent template to make the process of content transition as easy as possible.
User guide
As a standard, we add a generic user guide that enables users to work with the layouts, text levels, colors, footers, and more. It contains several tips and tricks that can increase productivity.
Black layout
Ensuring end users don't use off brand layouts, we place a completely black layout right after your branded layouts. This black layout highlights that any layout after this is an off-brand layout not to be used.