Accessibility Assistant is a tool for checking whether a document is accessible before exporting it as a PDF. The feature is a task pane shown to the user, where potential issues will be listed. This enables the user to locate issues and fix them easily. This also works with documents that are not made specifically by Omnidocs.
Example of Accessibility Assistant pane in Word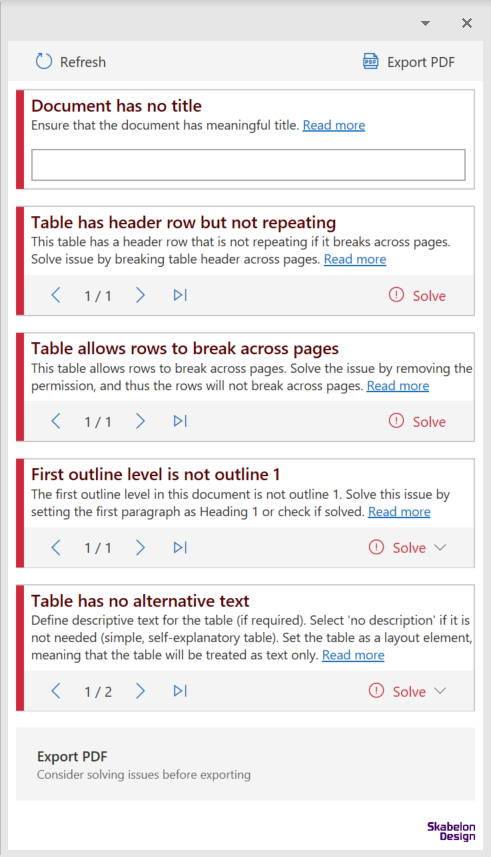 The purpose of our Accessibility Assistant is to provide a necessary guidance and support in order to build and generate an accessible PDF using Microsoft Word.
The tool does not aim to satisfy all available Accessibility PDF validators, but makes an attempt to export a compliant PDF document in regards to reading aloud, educate users in terms of common problems in regards to accessibility, and with a user's help, fix them.
Why is document accessibility important?
An accessible PDF allows users of adaptive technology to comprehend and navigate content. Reading attachments to emails, manoeuvring through websites and completing applications can seem to be a relatively easy task, but for those who use a screen reader, such tasks can be daunting.
When ensuring accessibility in your documents, you allow individuals that either due to low vision or blindness, use a screen reader, to manoeuvre through documents, to hear descriptions of images, to ensure correct reading, and to have equal access to information.


In this section, you can read more about the different issues our Accessibility Assistant support and why they are essential. Read the user guide for the tool in this article.
Read more about accessibility of the websites and mobile applications of public sector bodies in The Official Journal of the European Unions.