​Corporate Infographics is a tool that empowers users to create and insert icon-based infographics that comply with the visual identity. This feature opens a task pane where the infographic can easily be customized with both colors, icons, numbers, and titles. When the infographic is edited, the infographic will automatically update in the presentation. Thus, Corporate Infographics enables users to work with visualization of complex data in a productive way.
We need your design manual and icons
Based on your design manual and icons, we create a design proposal for your Corporate Infographics solution. We need two things to start up with:
Your corporate PowerPoint template or your placeholder measures
Your icons
Please read the following details before starting up the design process.
​PowerPoint template placeholder sizes
​To create the design, we either need 1) your PowerPoint template (we will take the measures needed from there), or 2) the exact placeholder sizes in your PowerPoint template.
Typically, we use the three different formats as indicated below. Please provide the measurements of the below three different placeholder sizes in cm.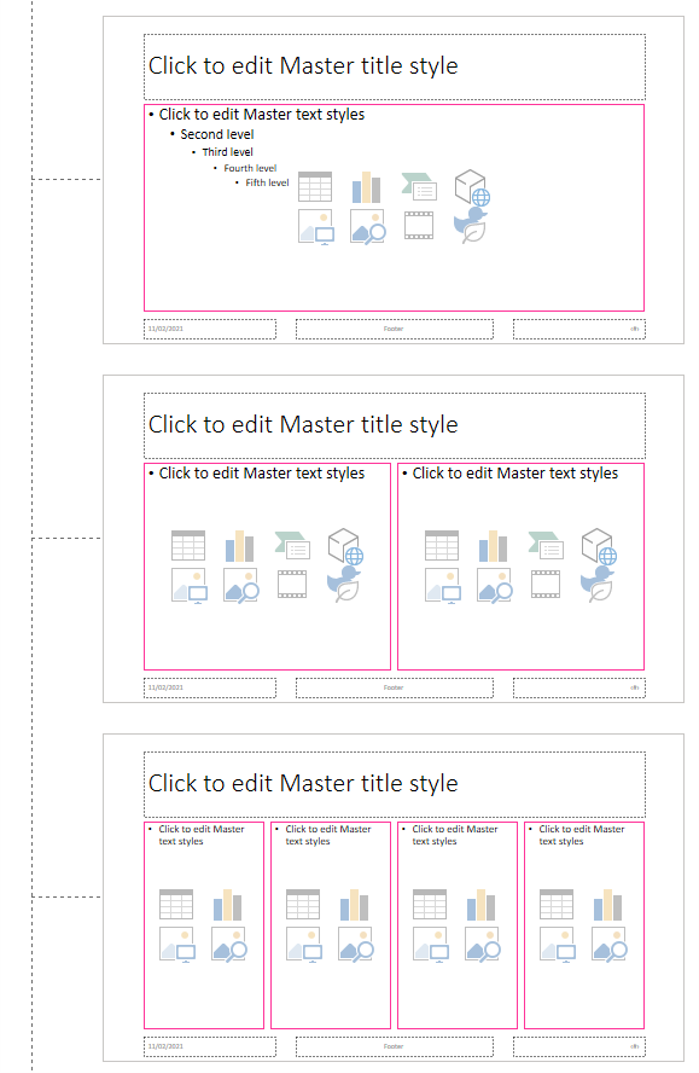 ​Icon design
​Your corporate icons can become functional using highlight-coloring in two ways - either by setting a primary and secondary color (the primary being used for highlight and secondary used for lowlight), or using a transparent overlay to lowlight the relevant data. Note that it is not possible to adjust the color of icons containing multiple colors.
The typical Corporate Infographics solution has a primary color (highlight) being supported by a secondary color (low light). You can have up two 10 different color combinations. Any color can be set as the system uses vector graphics.

If you are having an icon library with multiple colors, we enable a transparent layer covering the lowlight area of the icon to make the relevant data stand out clearly. This is because the system can not support primary and secondary color settings.

Microsoft 365 icon option
If you do not have icons available, you can use the standard Microsoft 365 icons. Microsoft 365 contains over 3500 different icons.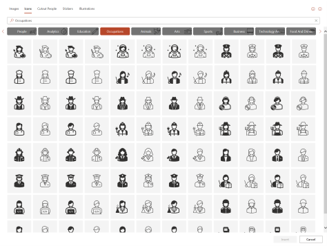 ​Icon size measures
​Icon format: Square
Margin size: 1:20 on all sides
​Size example: ​2,54 cm icon size = 0,127 cm margin on each side of icon
​File format: ​.svg
Margin settings illustrated
Correct margin setting illustrated below (the margin has free space area).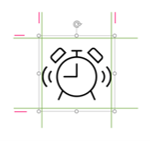 Wrong margin setting (the margin has no free space area).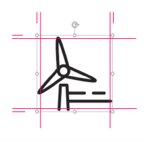 ​Primary and secondary color combinations
​To provide a user-friendly and effective data visualization, we create recommendations based on your design manual for the color combinations. See example below.

​Five templates included as standard
​Following your design guide, we create a design proposal containing five different Corporate Infographics templates.
The below examples are modified based on the listed parameters changing the look and feel matching your brand:
Colors
Fonts
Graphic elements (line thickness, etc.)
Company icons