If the ribbon tab or tab functionality is missing
If the ribbon tab or buttons in the tab are missing in Word or another Office program it is often because one or more add-ins are somehow inactive. That an add-in is disabled can have multiple causes but it can usually be quickly fixed.
Omnidocs' latest and greatest as well as most common add-in is OfficeExtensions, which is why this article focuses on this.
Activate the OfficeExtensions add-in in Word
If OfficeExtensions is inactive, it can be activated like thus:
1) Click Files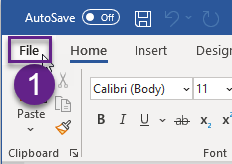 2) Click Options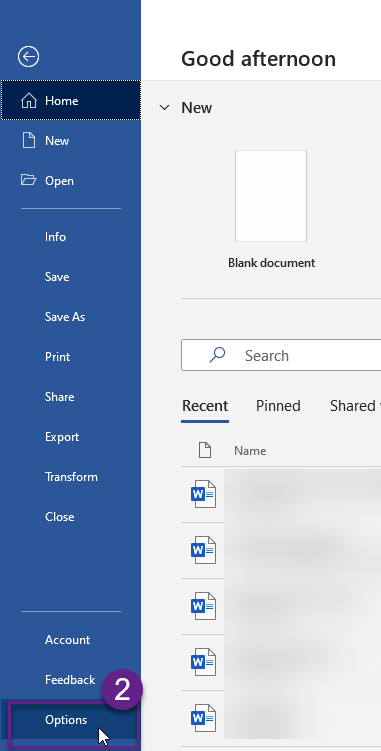 3) In the Word Options menu click Add-ins

The menu View and manage Microsoft Office Add-ins. is now open and shows all add-ins in Word: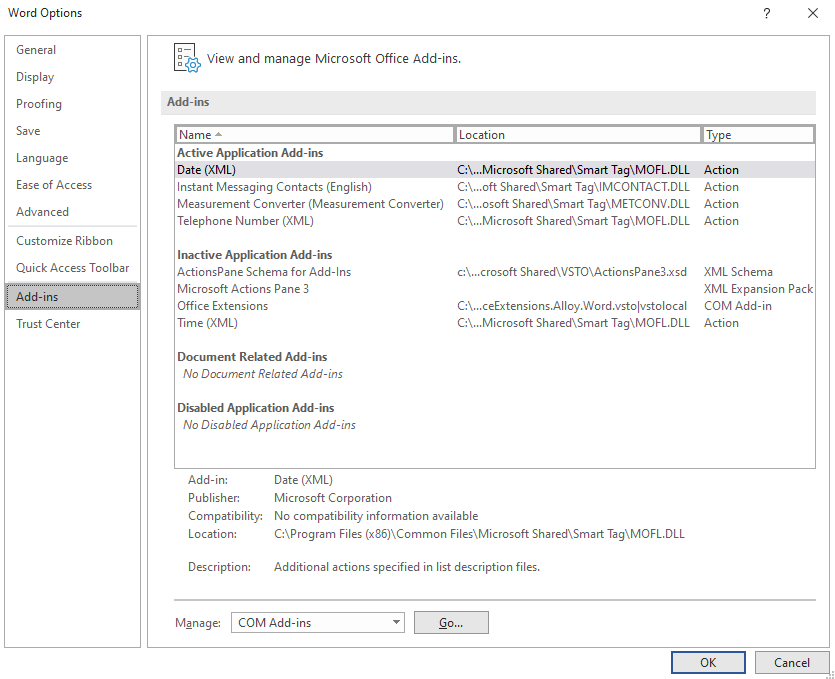 At the bottom of the menu is the drop down menu Manage.
COM Add-ins is selected by default.
4) Click Go...


5) In the menu COM Add-ins tick the box next to OfficeExtensions by clicking it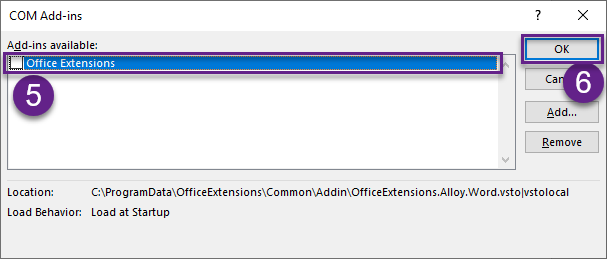 6) Click OK and the button or tab should return in Word.
Disabled Items
If the functionality does not (re)appear after step 6 it is possible that the add-in is disabled. It will then appear on the list Disabled Application Add-ins. If so:
7) In View and manage Microsoft Office Add-ins click the arrow at the drop down menu Manage and select Disabled Items
8) Click Go...
9) In the newly opened dialog Disabled Items click and select Addin: zofficeextensions.alloy.word (officeextensions.alloy.word.dll)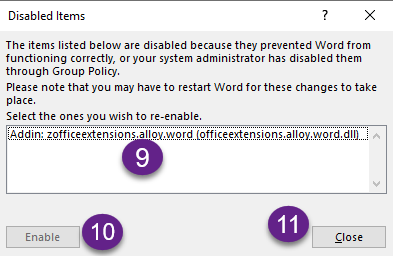 10) Click Enable
11) Click Close
Repeat steps from step 5.
If the add-in is nowhere to be found in View and manage Microsoft Office Add-ins the solution is not properly installed. In that case please contact internal IT support.
See also: